THIS PAGE CONTAINS INFORMATION ON:
Store update schedule, retired plushes list
Orders and Shipment
Tools and Resources
IF YOU HAVE A QUESTION THAT IS NOT ANSWERED ON THIS PAGE, FEEL FREE TO SEND AN INQUIRY THROUGH MY CONTACT PAGE OR TO MY EMAIL
ARTBYKAYOCHINS@GMAIL.COM
WILL ____ PLUSH BE RESTOCKED?
Here is a rough timeline of releases I have scheduled for the first trimester of 2023 which is subject to change: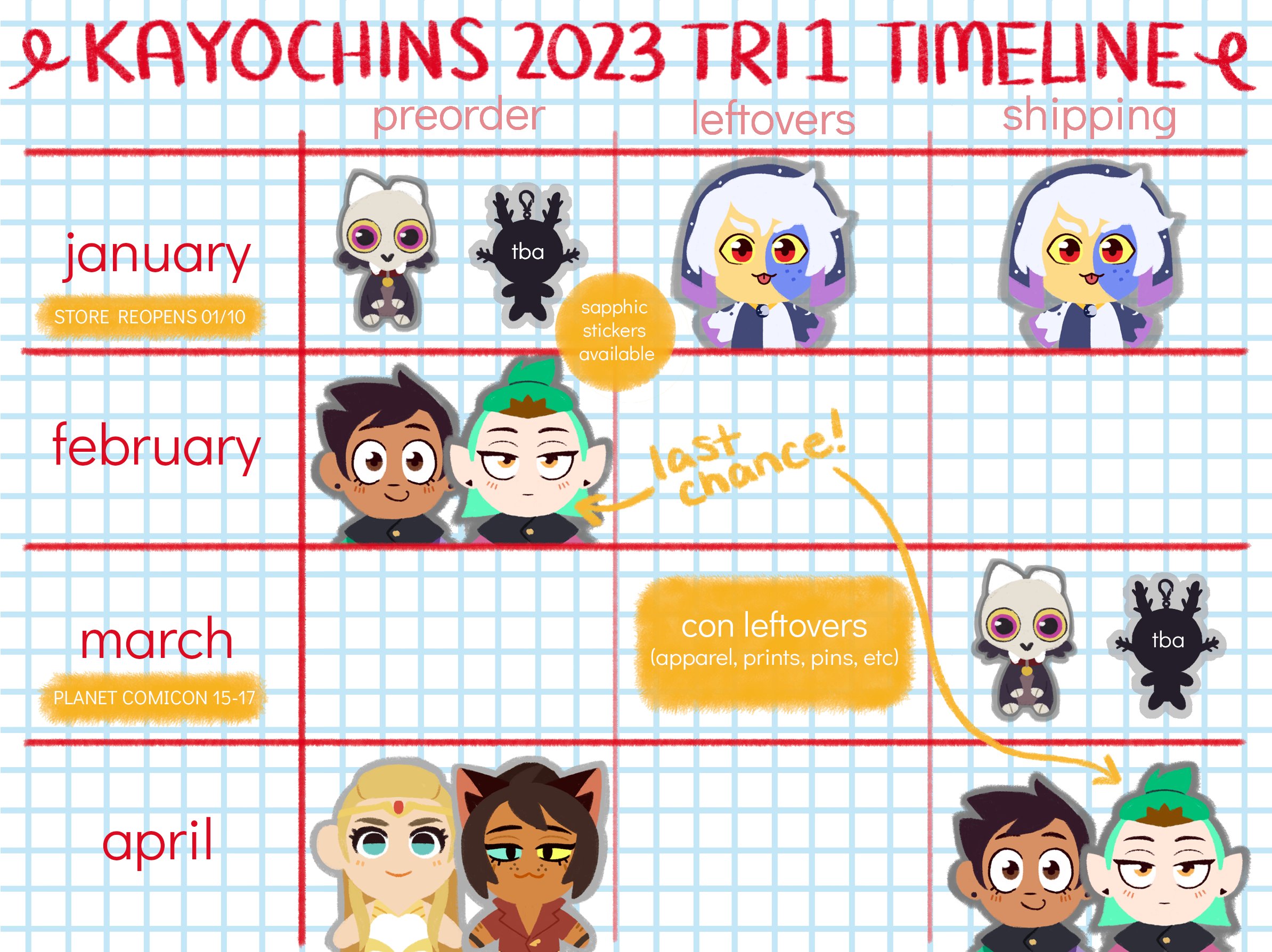 The following have been retired indefinitely:
s1-4 catra (S:POP)
scorpia (S:POP)
entrapta (S:POP)
adora and s5 catra (S:POP)
she-ra (S:POP)
DO YOU SHIP TO ____?

Currently I only ship to the following countries, and only to these for the foreseeable future. IF YOU EMAIL OR MESSAGE ME ASKING TO SEND TO YOUR COUNTRY, I WILL NOT RESPOND. Here is a thread where I explain why I stopped shipping to Mexico and do not ship to more countries.
Argentina
Belize
Bolivia
Brazil
Canada
Chile
Colombia
Costa Rica
El Salvador
Guatemala
Guyana
Honduras
Nicaragua
Paraguay
Panama
Suriname
United States
Uruguay
Venezuela
WHEN WILL MY ORDER ARRIVE?

For regular orders, they are shipped out within a two week period. For preorders, in the description of the item I have an estimated period of when they will be sent out. Sometimes due to circumstances outside of my control this estimation is off, but I try to post updates on my Twitter when I can if something comes up!

Domestic orders usually take 3-5 days to arrive. International orders take quite a while longer, sometimes up to several months. Most orders include tracking numbers (customs declarations for international) to keep track of packages during transit. You will receive these via email when I've shipped them off!

I am not responsible for any lost or misplaced packages. If you believe that your's is lost, I do not offer refunds and I am unable to ship out a replacement since I am a one-person small business. Please email me before filing a claim with your bank since it negatively impacts my own storefront despite it being outside of my control.

MY ORDER ARRIVED DAMAGED, WHAT SHOULD I DO?
Please send me an email (artbykayochins@gmail.com) with your order number and photos of the damaged goods.


I MADE A MISTAKE WITH MY ORDER, WHAT SHOULD I DO?
Email me as soon as possible! (artbykayochins@gmail.com) Include how you would like the order corrected and I will do what I can from my end.

If it has already been shipped out, unfortunately there isn't much I can do except wait for it to be returned to me. In that case, if you still want the item(s), you will have to pay for the additional shipping cost.


WHY DID MY PACKAGE FAIL TO DELIVER?
Contact USPS as soon as possible to resolve this. Some of the reasons this could have happened are:
Incorrect or invalid address used at checkout
Package was delivered to wrong address
Address is new and the post office's system hasn't yet updated
Package was lost in transit


WHAT SHOULD I DO WITH THE LEFTOVER PACKAGING?
Every poly mailer is compostable (including the tape!) and can be put into a compost bin to rejoin our ecosystem. Letter envelopes can be put in recycling.
While the orange mailers aren't compostable, I would highly encourage keeping them until you have your own mail to send out and using it instead of buying a new mailer! I will only be using what I have on hand and then fully transition to fully-compostable and/or recyclable materials.


HOW DO YOU FIND A RELIABLE MANUFACTURER?
Look on ALIBABA! There are many manufacturers who make custom-designed collectibles. Just make sure to put in the research by looking through their reviews and sample pictures.


I don't feel comfortable disclosuring my plush manufacturers, but I do use
SEENMERCH
for apparel and ROCKINMONKEY for stickers.


HOW DID YOU MAKE YOUR STORE?

I started off making small runs of charms and buttons from things I liked when I was 14/15. I had some failed preorder runs, but persisted. Eventually I noticed how some friends were making plushes, and decided to dip my toes in in 2018. People posted pictures of their orders which helped expand my audience and, in turn, my customer base!


WHAT PROGRAMS DO YOU USE?
I use PROCREATE and PHOTOSHOP for just about everything!